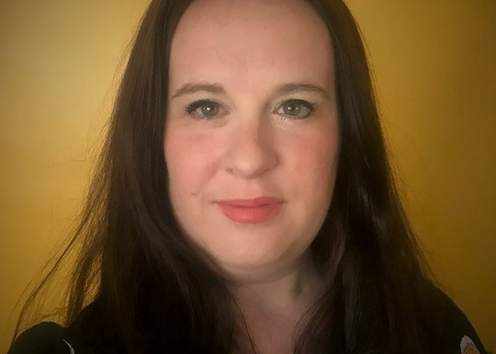 Sarah Hamilton has always been passionate about technology, but her background in education and theater left her feeling as though her dream career in tech was out of reach. She wasn't in a position to take on more student debt, nor did she have the time to earn a traditional computer science degree to gain the skills and qualifications needed to break into the competitive technology industry.
UST Step IT Up Apprenticeship Program
When Sarah learned about the UST Step IT Up Apprenticeship Program facilitated by UST Xpanxion, new doors of opportunity opened rapidly, and Sarah's life changed almost instantly. UST Step IT Up is a global talent development program designed to solve the tech skills gap through diversity and inclusion. The accelerated paid STEM program identifies and trains women, veterans, and others underrepresented in the industry to become technologists in just 4-7 months.
Through the program Sarah acquired the technical skills, soft skills, and hands-on training needed to work in the technology field without incurring additional debt. Plus, Sarah was paid during her apprenticeship, which meant she didn't have to worry about how to make ends meet while she was developing her skills. This allowed her fully immerse herself in the program and focus all her efforts on learning and growing as a technologist.
Road to Success
Sarah entered the program for software development in March 2022, where she received intense training learning computer programming languages such as Java and Python and acquired the skills and knowledge needed to succeed in the technology industry. Upon graduating, Sarah was hired on full-time as a Full-stack Java Software Developer with Penske Transportation Solutions, a global transportation, and logistics leader.
Sarah's story proves apprenticeships are priceless opportunities to help people from diverse backgrounds break into new fields. But Sarah's success extends beyond her and symbolizes a growing movement of underrepresented women entering the technology workforce. Women represent only 17% of the technology workforce, compared to 40% in all other sectors. Sarah's journey is one of many changing these odds and inspiring other women to enter the industry and make a meaningful impact in technology
Hear from Sarah
The impact of apprenticeship opening doors to career paths for all.
""Being an apprentice has been life-changing because it helped me get into a field that I was very passionate about, but had no experience in. Without the apprentice, I don't know how I would have gone about it. There's a difference between learning to do something and being on the job and doing it!" - Sarah Hamilton
Learn more about Sarah Hamilton's experience as she shares her own story here.
Learn more about UST Xpanxion Step IT Up Apprenticeship Program and how to apply here.
Publish Date: 03/19/2023