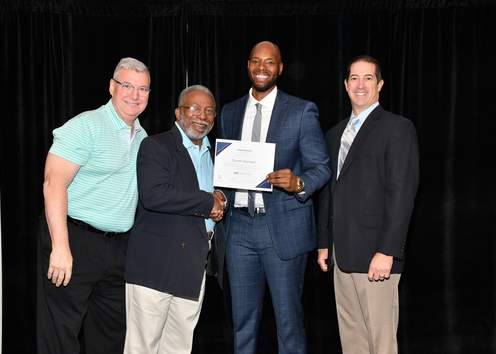 "Step IT Up gave me the opportunity for a guaranteed job as a software engineer, and I got paid to learn something I enjoy. It was a blessing and a dream come true. I wish college worked the same way!"
Tyrell Horton's story is about persistence and determination and inspires many people to go against the odds to break into highly competitive technology fields.
Tyrell's lifelong fascination for technology and passion for learning helped him earn a B.S. and an MBA at a national technical college. This level of education is usually enough to open paths to dream careers in most industries. But in the technology sector, the holy grail that tech leaders seek is the on-the-job experience that cannot be found in a classroom setting. Even with Tyrell's impressive academic background, he knew his journey was just beginning. He still had a lot of work to do, and the cards were still stacked against him.
That's when he turned to the UST Xpanxion Step IT Up Apprenticeship Program. Step IT Up is a global talent development program designed to solve the tech skills gap through diversity and inclusion. The accelerated STEM paid Registered Apprenticeship program identifies and trains women, veterans, and others underrepresented in the industry to become technologists in just 4-7 months of hands-on training.
With Step IT Up, Tyrell not only received the on-site training he needed to gain meaningful work in the technology field, but he also got paid during the apprenticeship. This benefit allows apprentices to fully immerse themselves in training to get the most out of the program without distraction from side jobs.
Tyrell entered the UST Xpanxion Step IT UP Apprenticeship Program for software development in February 2022, where he learned coding languages such as Java, SQL, and Python, agile software development techniques, and developed essential management and soft skills that he needed to become a software engineer. He took full advantage of the on-site training and said the opportunities to quickly attain hard coding skills and collaborate with "brilliant" work colleagues were some of the major benefits and motivating factors of the program for him.
He describes the program as a stress reliever because he knew that once he completed it, his dream job was already lined up and waiting for him.
His determination paid off. After graduating, he immediately began a full-time position as a software engineer with Penske Transportation Solutions, a global transportation and logistics leader. He is responsible for designing, coding, and testing the company's HRIS (Human Resource Information System) software package.
Tyrell's journey inspires others to break into the competitive tech world, despite the odds. It proves that with persistence and the right resources, dream careers can turn into realities through paid apprenticeships.
Learn more about the UST Xpanxion Step IT Up Apprenticeship Program and apply here: https://www.ust.com/en/step-it-up/candidates?highlightWord=candidates
Publish Date: 03/19/2023