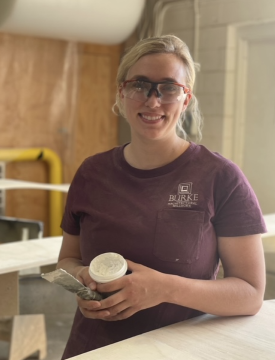 Through a Registered Apprenticeship program, Allison VanHouten is pursuing her passion – working with her hands and building something from scratch. VanHouten, 31, is a licensed speech therapist and when she decided that field wasn't her true calling, she began to consider other career paths. She enjoys do-it-yourself projects, including refurbishing cabinetry and furniture, so she researched careers in millwork.    
"I craved something that allowed me to work with my hands and be involved in the process of designing and building something," she said. "I wanted to see the fruits of my labor in a more tangible way."  
Through her online research, she found Burke Architectural Millwork in Livonia, Michigan, which offers a Registered Apprenticeship program. Kelly Victor-Burke, owner of Burke Architectural Millwork, designed the Registered Apprenticeship and drafted the new occupation – woodwork manufacturing specialist -- after deciding the industry needed a better way to train its employees. The competency-based Registered Apprenticeship addresses competencies such as safety, millwork techniques, design, wood processing operations, and others. With her limited knowledge and experience, VanHouten recognized that the Registered Apprenticeship program offered her a great opportunity.   
"I wanted something where I would feel supported and work for a company that was open to teaching me," she said.  
The company hired her, and she began her Registered Apprenticeship in July 2022. Now she is learning how to make and install cabinets and closet fixtures, while taking classes at a nearby community college. She's completed her first computer-aided design class and is now enrolled in her second course. Jobs for the Future (JFF) provided Burke Architectural Millwork with financial assistance to help pay for VanHouten's related training instruction at the college. VanHouten said her work at Burke Architectural Millwork is challenging because she is still unfamiliar with some of the terminology and the processes. However, her mentor, a former apprentice himself, is there to help.   
It is because of her positive experiences with the program that she encourages others, especially women, to consider Registered Apprenticeship. VanHouten states that, "apprenticeship allows for a productive learning environment where you can realize your true potential." 
Publish Date: 09/28/2023