Become a Registered Apprenticeship Program
Why Hire a Veteran for Your Apprenticeship Program?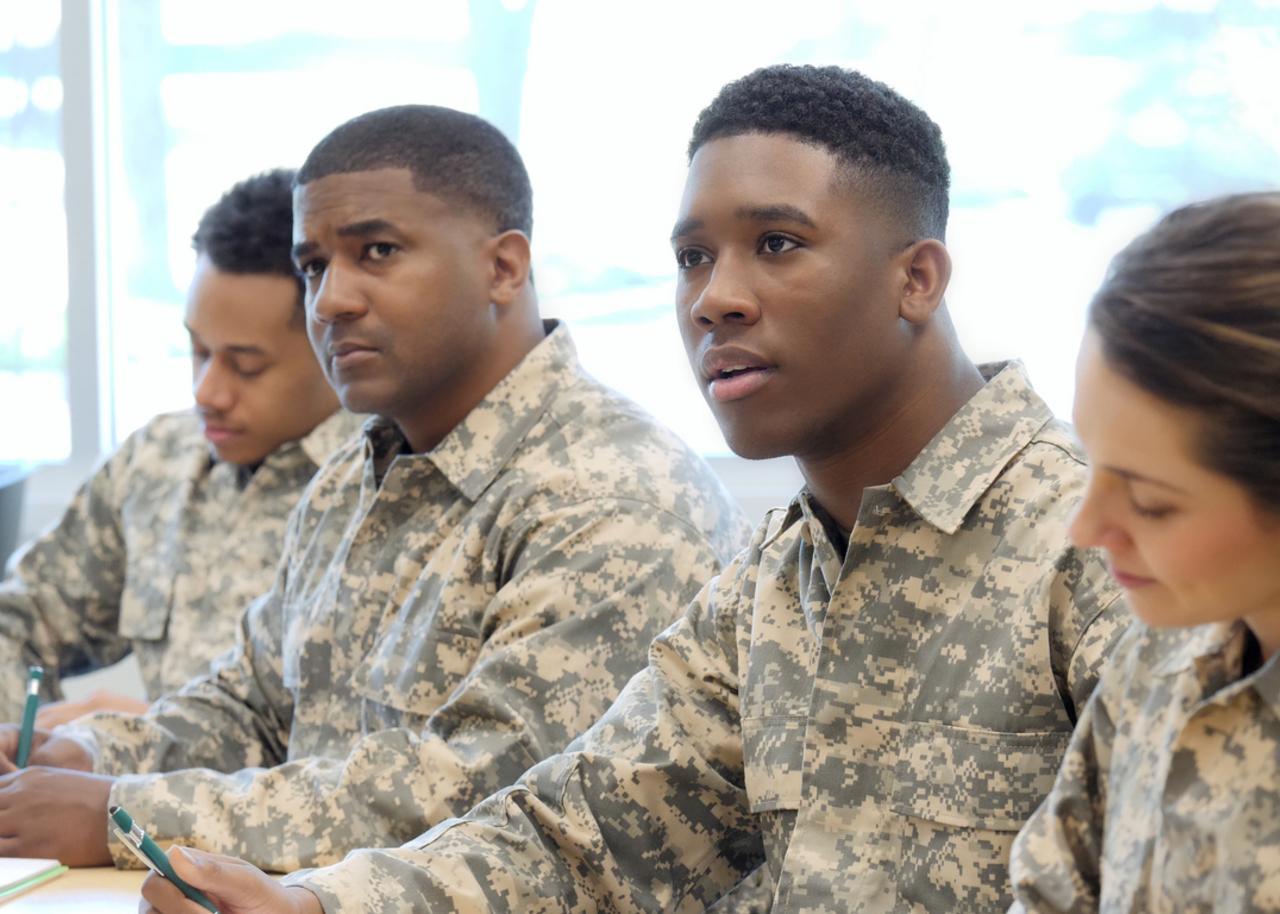 Employers have seen higher retention rates from veterans and report that their veteran employees demonstrate proven leadership, an ability to work well under pressure, and a strong work ethic – all valuable skills in an apprentice. As you look for a reliable talent pool, consider how your Registered Apprenticeship Program can attract veterans by getting approved to accept GI Bill® benefits and becoming a veteran-ready organization.
There are a variety of ways that you can connect your apprenticeship program with transitioning service members, veterans and their spouses. Find resources on how you can tap into a skilled and ready workforce to build your team.
Why Become Approved for the GI Bill Benefits?
Companies that want to hire veterans can provide an added incentive to attract skilled veterans. By becoming "Approved for GI Bill", Registered Apprenticeship Programs can assist their current and future veteran apprentices with the benefits they've earned. Veterans who have existing benefits under the GI Bill and are participating in a VA-certified apprenticeship can use the GI Bill towards tuition and fee payments.
Monthly Housing Allowance
A veteran apprentice can use their GI Bill benefit and receive a taxfree monthly stipend while participating in a Registered Apprenticeship Program.
Stipend for Books and Supplies
Post-9/11 GI Bill recipients may receive up to $83 per month for books and supplies in addition to their VA housing stipend.
For more information on Post 9/11 GI Bill and Montgomery GI Bill Benefits visit the VA's Education and Training Resources 
GI Bill® is a registered trademark of the U.S. Department of Veterans Affairs (VA). More information about education benefits offered by VA is available at the official U.S. government website at https://www.va.gov/education/about-gi-bill-benefits/.
---
Get your Program Approved to Provide GI Bill Benefits
Register your apprenticeship program. To learn how to formally register your program, visit our Registered Apprenticeship Program page or use our Partner Finder to contact your nearest apprenticeship consultant.
Already registered your apprenticeship program? The next step is to seek GI Bill authorization from your Department of Veterans Affairs State Approving Agency, which is responsible for approving apprenticeship programs in your state. Requirements generally include submitting a training request form that specifically outlines the proposed program, wages, and standard workweek information, as well as the company contact name and phone number.
Registered Apprenticeship program sponsors (and employers) are provided a streamlined process for being certified under the GI Bill – typically within 30 days. Upon approval, Registered Apprenticeship sponsors are encouraged to promote their apprenticeships as Approved for the GI Bill to inform veterans about their eligibility for benefits as an apprentice with their organization.
You can find more information on becoming a program sponsor here.
What is the VALOR Act?
This policy streamlines how multi-state apprenticeship programs are certified by the VA. Prior to this legislation, employers had to certify their program with individual state approving agencies. Now, they can register one time in the state in which they are headquartered, and then be VA certified across state lines.
---
What Does it Mean to be a Veteran-Ready Organization?
Being a veteran-ready organization requires that employers consider how best to recruit, onboard, and integrate veterans in their workplace. This goes beyond simply hiring veterans out of a sense of patriotism and civic duty and requires asking critical questions about the policies and programs that help create an organizational culture that supports veterans' needs. Below are questions that can help employers begin to think about how to go from veteran-friendly to veteran-ready organizations:
What are some of the keys to effectively screening veteran resumes and interviewing veteran candidates?
What programs or policies has your organization successfully implemented for recruiting, onboarding, and integrating veteran hires?
What resources, organizations, and programs have you leveraged to support the engagement, development, and retention of your veterans?
Do you have dedicated human resources professionals(s) or initiatives to support veterans within your organization?
Veterans have proven training and leadership skills. For employers seeking assistance in recruiting veterans, contact the U.S. Department of Labor's Veterans' Employment and Training Service to speak with a Regional Veterans Employment coordinator who can help you.