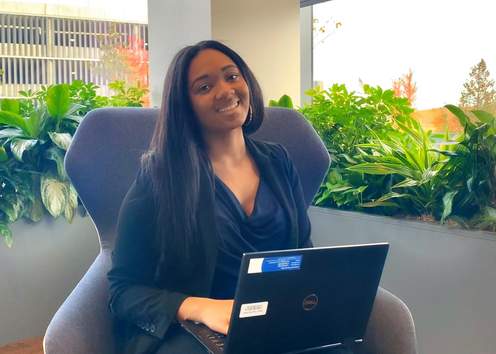 Amaiya Lockwood is an Underwriting Account Associate for Large Domestic Casualty and 2020 Zurich North America apprenticeship graduate.
I was graduating from high school and didn't know what I wanted to do, but then my high school principal told me about the Zurich Apprenticeship Program. Seeing this opportunity was everything. I could gain a college education at the same time as starting a full-time career right out of high school.  
I started the two-year program in August 2018. We went to school on Tuesdays and Thursdays and worked Monday, Wednesday and Friday. We got paid as full-time employees, with benefits. And they paid for college to earn our associate's degree.
When I finished my apprenticeship in 2020, I got my first promotion to Senior Coordinator in the Zurich Claims department. In January 2022 I was promoted to an underwriting position. I really do like this work. It's at a great pace; they don't throw everything at you. And they walk through everything with training.
I'm working during the day and taking classes at night to earn my bachelor's degree at DePaul University. I've been able to work and take the classes online during the pandemic. Zurich provides help with the tuition.
Another thing I've liked about working at Zurich is that the company is really big on diversity and inclusion. This makes me feel heard and seen by the company and shows how much they care for all of their employees.
Learn more about Zurich North America's Registered Apprenticeship Program.
Publish Date: 07/01/2022