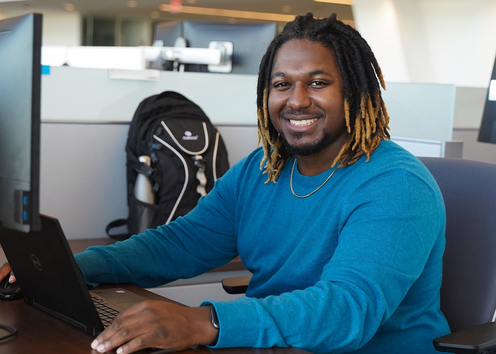 Will Banks is an Apprentice in Workers' Compensation Claims at Zurich North America in Schaumburg, IL.
Before I started as an apprentice in workers' compensation claims at Zurich North America, I had been working as an ice cream store manager for five years. I wasn't really sure if I wanted to continue down that path of taking over my own store or maybe go back to school and see what else I could do. While I was at that crossroads, a friend told my mom about the Zurich Apprenticeship Program.
Two things that stood out to me about the apprenticeship program: First, you've got a guaranteed position at a good, global company like Zurich when you complete the program. Second, while you're going to school, those classes are all paid for. So I didn't have to worry about student debt.
I applied and it's been good things since.
I have extensive customer service experience and I like interacting with people. In my claims apprenticeship, I get to talk with customers every day, making sure they know we've got their back.
I've learned that there is a whole lot more to insurance than I thought, opportunities in many facets – underwriting, claims, risk engineering, marketing, IT and more. I have also learned that there is more than just personal insurance. Zurich North America primarily deals with commercial insurance, providing coverage for businesses all over the world.
When people feel covered, they're able to be more innovative with their business, and that helps the world grow. Being able to play a part in that makes me proud to work at Zurich.
Learn more about Zurich North America's Registered Apprenticeship Program.
Publish Date: 07/01/2022