Sharae Moore is the founder, and CEO of S.H.E Trucking. S.H.E. Trucking was founded on the premise of empowering female truck drivers and is achieving its vision through developing a Registered Apprenticeship program for truck drivers across the nation.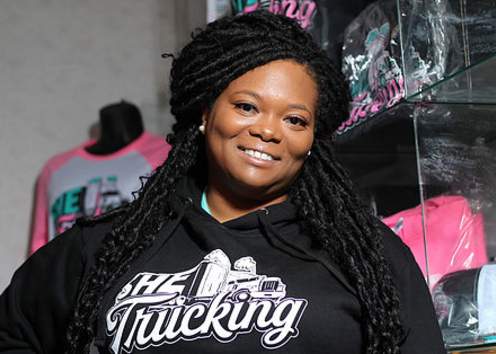 Sharae Moore still remembers the day she obtained her commercial driver's license in 2013 and took charge of a 35,000-pound vehicle for the first time, making her one of only 106,000 female truck drivers in the United States. While in training she realized there was a lack of female representation in the industry, and upon embarking on the road, this reality set in. Wanting to create a sense of belonging for her and her female peers, Moore began the clothing line S.H.E. Trucking. As female truck drivers across the country discovered her work, they began reaching out to Moore through Facebook for mentorship and advice. Ultimately, the community propelled its growth, and Moore created an official Facebook group to give female truckers a place to connect. As this group quickly grew in size and influence, FASTPORT, the Department of Labor's transportation and logistics intermediary, took notice of S.H.E. Trucking's pioneering work and offered to collaborate to take the next step in furthering female trucking: developing a Registered Apprenticeship program (RAP). Seeking to formalize the mentorship S.H.E. Trucking was already providing, the National Standards of Apprenticeship for the RAP were developed and approved by the Department of Labor. The RAP officially launched in 2021.
Recognizing the increasing need for qualified truck drivers across the board, S.H.E. Trucking works to subvert the male-dominated history associated with the industry. They work to dispel myths and stereotypes that deter women from becoming truck drivers and break barriers of entry by creating a community of support and mentorship. Demand for truck drivers is outpacing supply, and in 2018 alone, the trucking industry was short 60,800 drivers with women representing only 6.6% of drivers, making them a largely untapped talent pool. Through RAP, empowering women in truck driving will help empower future women in truck driving.
"S.H.E. Trucking is a vehicle to provide Registered Apprenticeship opportunities to women joining the [transportation] industry and offers opportunities which would not be possible without the support of the Department of Labor."

Dave Harrison, Executive Director of National Apprenticeships, FASTPORT
S.H.E. Trucking and FASTPORT recognize that programs like S.H.E. Trucking will contribute to women's advancement beyond truck driving. Active mentorships enable women to provide career growth opportunities such as training, management, logistics support, and other areas where women may have not previously envisioned themselves.
While still in the first year of their RAP, S.H.E. Trucking and FASTPORT are already planning to expand, and hope to develop additional National Standards for Apprenticeship for diesel mechanics, driver managers, and freight brokers. Moore maintains an active network of small women- and minority-owned transportation businesses and recognizes that they face barriers in being able to hire drivers with little to no experience and participate in RAPs. By working with them to expand their occupational mentoring network, offering business plan training, and increasing access to insurance policies that allow employers to engage drivers with little or no experience, these small businesses are better able to compete and increase their capacity for entry-level workers. S.H.E. Trucking and FASTPORT hope that by developing additional National Standards for Apprenticeship offered through S.H.E. Trucking and helping small businesses overcome known barriers to hire entry-level workers, thousands of women will have the opportunity to engage in their RAP and grow their careers in the transportation industry.
FASTPORT states that "apprenticeship is about hiring and retaining," and believes that the Registered Apprenticeship model is one that more organizations should adopt. As modeled by S.H.E. Trucking, the value of RAPs is more than just a way to develop your workforce: it is a way to increase opportunity in the workforce.
Publish Date: 09/28/2023