Hiring and Retaining Apprentices with Disabilities
Every day, individuals with disabilities go to work as apprentices in all sectors of the economy, and businesses seek opportunities to increase and diversify their workforces to tap into all available talent. The apprenticeship Equal Employment Opportunity (EEO) regulations help individuals with disabilities succeed in Registered Apprenticeship programs and provide businesses and other sponsors the tools necessary to promote their inclusion.
Several tools and resources are available to provide:
Information on recruiting, hiring, training and retaining individuals with disabilities; and
Support for sponsors' invitations for voluntary disability disclosure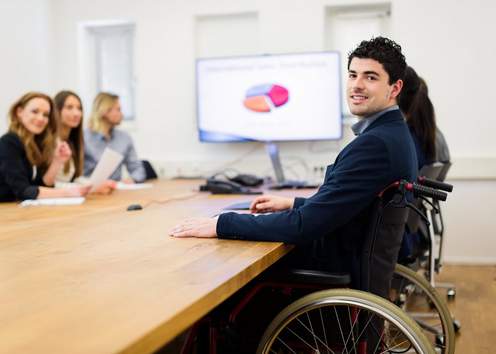 What Do the Apprenticeship EEO Regulations Say about Individuals with Disabilities?
The regulations describe the responsibilities of apprenticeship program sponsors to ensure that apprentices and apprenticeship applicants with disabilities receive equal employment opportunity
The apprenticeship EEO regulations apply to apprenticeship sponsors that are registered with the federal Office of Apprenticeship (OA) and to apprenticeship sponsors that are registered with State Apprenticeship Agencies (SAAs) that have enacted OA-approved language adopting the updated part 30 regulation.
Fact or Myth?
Myth! The term "disability" includes a wide range of conditions. Many people associate disabilities with conditions that affect mobility, but there are many other types of disabilities, such as sensory, cognitive, and psychiatric disabilities. Many disabilities are not apparent, such as learning disabilities, psychiatric or behavioral conditions, diabetes, chemical sensitivities, and epilepsy.

Myth! Managing and teaching apprentices with disabilities is no different than managing any other apprentices. Sponsors should use the same practices with apprentices who have disabilities that are successful in ensuring productivity and effective learning with any of their apprentices. In addition, state vocational rehabilitation funding may be available to pay for job coaching services to assist the sponsor and apprentice with skill building or getting over any road blocks in the learning process.

Fact! Reasonable accommodations are adjustments or modifications that allow workers with disabilities to perform the essential functions of a job. Accommodations vary according to the nature of the job and the needs of the worker. Most workers with disabilities require no accommodation to perform the job. According to the Job Accommodation Network (JAN), a service of the U.S. Department of Labor's Office of Disability Employment Policy, more than half of requested accommodations cost nothing, and most accommodations that do have a cost are less than $500. Additionally, sponsors do not have to make an accommodation that imposes an undue hardship on them. If sponsors have questions about appropriate workplace accommodations, they may consult JAN for resources and solutions, free of charge.

Fact! Employers can find a wealth of information on employer subsidies related to disability employment at the following webpage: http://www.askearn.org/topics/laws-regulations/employer_financial_incentives/

This webpage was developed by the Employer Assistance and Resource Network on Disability Inclusion (EARN), a free resource that helps employers tap the benefits of disability diversity. EARN educates public- and private-sector organizations on ways to build inclusive workplace cultures. Many other resources are available at the www.askearn.org website.

Myth! An employee with a disability must meet the same production standards, whether quantitative or qualitative, as an employee without a disability in the same job. Lowering or changing a production standard because an employee cannot meet it due to a disability is not considered a reasonable accommodation. (However, a reasonable accommodation may be required to assist an employee in meeting a specific production standard). In addition, sponsors should remember that loyalty, dependability, and a desire to do a good job are not attributes held exclusively by employees or apprentices without disabilities.