Hiring and Retaining Apprentices with Disabilities
Every day, individuals with disabilities go to work as apprentices in all sectors of the economy, and businesses seek opportunities to increase and diversify their workforces to tap into all available talent. The apprenticeship Equal Employment Opportunity (EEO) regulations help individuals with disabilities succeed in Registered Apprenticeship programs and provide businesses and other sponsors the tools necessary to promote their inclusion.
Several tools and resources are available to provide:
Information on recruiting, hiring, training and retaining individuals with disabilities; and
Support for sponsors' invitations for voluntary disability disclosure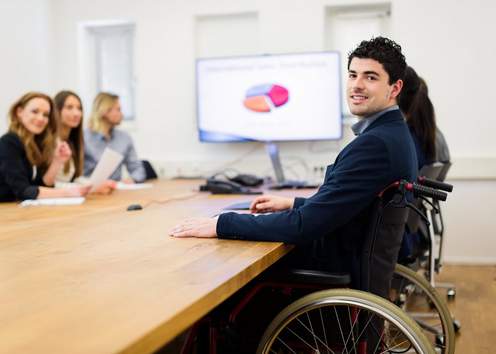 What Do the Apprenticeship EEO Regulations Say about Individuals with Disabilities?
The regulations describe the responsibilities of apprenticeship program sponsors to ensure that apprentices and apprenticeship applicants with disabilities receive equal employment opportunity. For more information, read the EEO in RAPs for Individuals with Disabilities Quick Reference Guide.
The apprenticeship EEO regulations apply to apprenticeship sponsors that are registered with the federal Office of Apprenticeship (OA) and to apprenticeship sponsors that are registered with State Apprenticeship Agencies (SAAs) that have enacted OA-approved language adopting the updated part 30 regulation.