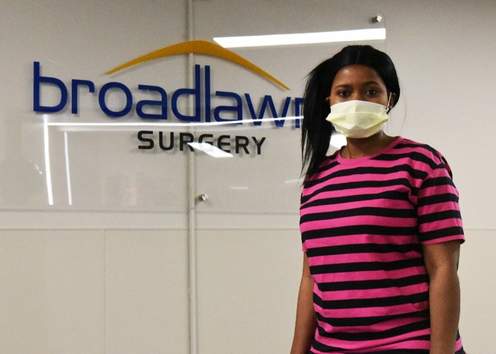 Bahati Eleson is a certified nursing assistant (CNA) with Broadlawns Medical Center in Des Moines, Iowa who completed a CNA apprenticeship in 2021. A refugee who fled war and unrest in Congo five years ago, Bahati set three goals for her life in the United States: to gain higher education, improve her life, and give back to the community.
"My involvement with the [CNA apprenticeship] had a huge impact on my future goals to become a nurse, as it provided me with the foundation as well as learning every aspect of patient care when working in a hospital setting. It also allowed me to be prepared and handle challenges and provide outstanding direct patient care."  
The earn-while-you-learn apprenticeship model enabled Bahati to learn new skills and certifications while continuing to support herself and her family. Since English is not Bahati's first language, Bahati especially appreciated the chance to learn under the guidance of experienced mentors who could model skills, answer questions, and troubleshoot any language barriers.
For those considering an apprenticeship in healthcare, Bahati offers this encouragement:
"Every day will bring an opportunity to improve and learn new skills while making an impact in your community and your personal life."
Publish Date: 09/30/2023