UNDERSTAND KEY STEPS INVOLVED IN CREATING A PROGRAM
Explore the key steps by clicking the title of each below.
Design your program components
Determine the right sponsor model
Design Your Apprenticeship

Understand the apprenticeship program components, the program types, and the sponsor models to design a customized apprenticeship program
Design Your Program Components
All high-quality apprenticeship programs consist of five core elements. Follow the Apprenticeship Core Elements table below to design your program components.
Apprenticeship Core Elements
Paid Job
Apprentices are paid allowing them to earn and learn.
Work-Based Learning
Create a Work-Based Learning model that is either time-based, competency-based or a hybrid approach.
Classroom Learning
Choose a training provider that can be either internal or external (e.g., community college, online training provider, or in-house).
Mentorship
Form an internal mentorship program to provide one-to-one support to apprentices.
Credentials
Select an industry-recognized credential to be issued upon completion of the program.
DETERMINE THE SPONSOR MODEL THAT IS RIGHT FOR YOU
Understanding what you need to achieve allows you to better select a program partner model that is right for you. Below you will see some of the most common apprenticeship partner models that leverage different sponsors. A sponsor is the organization that assumes responsibility for the overall operation of the apprenticeship program. The models below can help inform how you might approach and customize your own apprenticeship.
EMPLOYER-SPONSORED MODEL
Serving as the sponsor of your own program, an employer has the most flexibility and control of oversight and decision-making responsibilities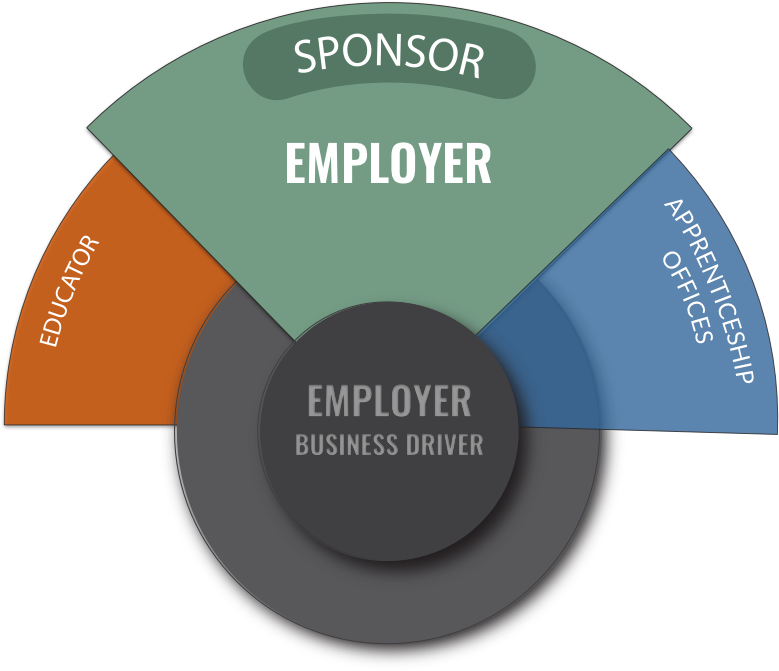 Serves as program sponsor
Recruits and screens apprentices
Provides on-the-job training
EDUCATOR
Develops curriculum for related instruction
Delivers related instruction to apprentices
Apprenticeship Office
Provides apprenticeship expertise to aid in program creation
Provides technical assistance to sponsor throughout the program lifecycle
Build Partnerships to help Create and Enhance your Apprenticeship Program
Start your search to connect with an apprenticeship expert or with partners in your industry including sponsors, educators, and more.
Why Build Partnerships?
Partners can help you fulfill the core components of your apprenticeship and can be instrumental in program creation by offering services like providing technical assistance, serving as a training provider, or helping to register your program. Below you can see the currently available partner categories. Use the search in the Partner Finder to connect with possible partners in your industry or geography.
National, regional, and state apprenticeship offices and agencies provide technical assistance and support to program sponsors, answer questions about the apprenticeship model, guide partners on each phase of developing a program, connect businesses to training providers, and advise partners on available funding sources to support apprenticeships.

An educator can refer to an institution such as a 4-year college, community college, occupational school, and career and technical school. The educator delivers academic and skills instruction driven by industry standards (e.g., instructors, curriculum, instructional equipment). In an apprenticeship, the education and training provider can grant progressive credentials based on competency testing, facilitate access to financial aid and other support resources (e.g., student loans, tutoring, counseling), or use marketing and outreach channels to identify potential apprentices. A sponsor may choose to perform training in-house.

An apprenticeship intermediary is an organization with the capacity, expertise, and network to help businesses successfully create, launch, and expand apprenticeship programs. Intermediaries could be any of the following: Industry Associations and Business Organizations, Community and Technical Colleges, Non-Profit and Community-Based Organizations, Labor Management Partnerships, or Workforce Development Boards.

Any person, association, committee, or organization that operates a Registered Apprenticeship Program. This entity assumes the full responsibility for administration and operation of the apprenticeship program. Sponsors can be a single business or a consortium of businesses. Alternatively, the sponsor can be a workforce intermediary, such as an industry association or a labor-management organization. Community colleges and community-based organizations can also serve as sponsors of apprenticeship programs.
FIND RESOURCES TO HELP FUND YOUR PROGRAM
Federal workforce and education funds can help many businesses undertake new investments in apprenticeship, encourage more employers to provide high-skilled training opportunities for apprentices and assist educators and intermediaries in strengthening the tie between training and employment through apprenticeship. In addition, tax credits and tuition support are available across different states. Use the information on the right to understand what resources are available to help offset costs for employers and apprentices.