Learn About Genetic Information and Its Protections
The apprenticeship Equal Employment Opportunity (EEO) regulations protect apprentices and apprenticeship applicants from discrimination on the basis of genetic information. This means that apprenticeship sponsors may not use, and generally may not seek to obtain, the genetic information of applicants to apprenticeship programs, apprentices, or their family members in making apprenticeship or other employment decisions.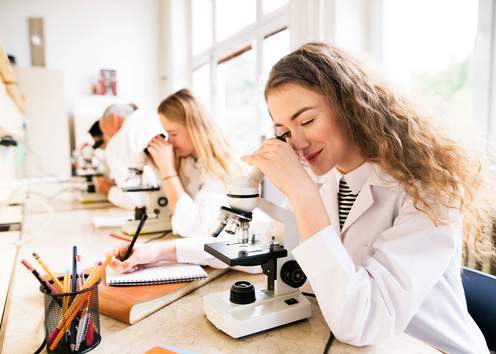 Frequently Asked Questions
Genetic information includes the following:

Results of genetic tests
Family medical history (i.e. information about the manifestation of a disease or disorder in a family member)
Requests for, and receipt of, genetic services (such as tests, counseling or education about genetic conditions)
Genetic information about a fetus or an embryo that is legally held using assisted reproductive technology.

For a more detailed definition of genetic information, visit the apprenticeship EEO regulations at Section 30.2 or the EEOC Fact Sheet on Genetic Information Discrimination .

The genetic information of an apprentice, an apprenticeship applicant, or an apprentice's or applicant's family members is protected.

Discrimination on the basis of genetic information includes harassment on that basis and discrimination in all aspects of employment: hiring, firing, pay, job assignments, promotion, layoffs, training, fringe benefits, or any other term or condition of employment. In addition, except under very limited circumstances, sponsors may not request, require, or purchase genetic information on apprentices, applicants for apprenticeship, or their family members.

It is also unlawful for sponsors to retaliate against an individual for opposing employment practices that discriminate based on genetic information, or for filing a discrimination charge, testifying or participating in any way in an investigation, proceeding or litigation involving genetic information discrimination.

Genetic information can help individuals make healthy lifestyle choices and important medical decisions. Apprentices might be concerned, however, that if they participate in research or undergo testing to learn genetic information about themselves, sponsors may learn about it as well and make employment decisions as a result - despite the fact that such information has no bearing on apprentices' current ability to work.

For this reason, the federal Genetic Information Nondiscrimination Act (GINA) prohibits employers from discriminating on the basis of genetic information, and from requesting or obtaining such information, except in very limited circumstances. The Office of Apprenticeship generally follows GINA in interpreting its regulations prohibiting genetic information discrimination.

A female apprentice learns that her mother has been diagnosed with breast cancer, and shares that news with other apprentices and her supervisor. She decides to get a genetic test to determine if she has the gene that would make her more likely to develop breast cancer. Except under very rare circumstances, the sponsor may not ask for the results of that test. If she voluntarily provides the results, the sponsor may not base any employment decisions on this information, as it is not relevant to her current ability to work.

Health information may be requested from an apprentice when the individual requests sick leave, medical leave, or family medical leave, or requests a reasonable accommodation under the Americans with Disabilities Act (ADA). An employer may also request a medical exam to ascertain an individual's ability to do the job after making a job offer or during employment, as permitted by the ADA. However, the exam may not include the collection of family medical history, except to comply with the certification requirement of the Family and Medical Leave Act (FMLA) - or similar state or local laws - as proof that an apprentice is entitled to leave to care for a family member with a qualifying medical condition.

Whatever the reason for requesting health information, to avoid violation of GINA or apprenticeship rules, the sponsor should warn the apprentice, as well as relevant health care providers, if applicable, not to include genetic information, such as the individual's risk of developing conditions or diseases in the future.

Yes, there are limited circumstances in which a sponsor may request an apprentice to provide genetic information. These include:

Where the information is acquired inadvertently, such as if a sponsor overhears an apprentice discussing genetic testing results with a co-worker during a break. ;
As part of a health or genetic service, such as a wellness program, that is provided by the employer on a voluntary basis;
From sources that are commercially and publicly available, including newspapers, books, magazines, and electronic sources (such as websites accessible to the public);
As part of genetic monitoring that is either required by law or provided on a voluntary basis; and
By employers who conduct DNA testing for law enforcement purposes as a forensic lab or for human remains identification.