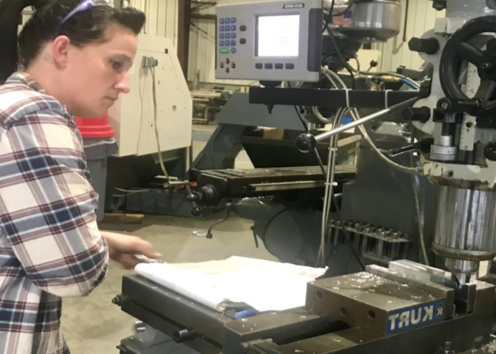 Before Erica DeRosier, 36, of Shinnston, WV, became a graduate of the Step Up for Women Advanced Manufacturing Program, she had multiple barriers to overcome. The most pressing was transportation. Erica's car was inoperable during the first two days of class but she did not let that stop her. After having to catch rides with several classmates, she sought help from Program Coordinator, LaKiesha Hines, for information on assistance programs. Shortly after reaching out to the West Virginia Department of Health and Human Services, she received help with getting her car back on the road to success, literally.
With one obstacle out the way, she was determined to knock down the rest. One being her lack of employment history due to a criminal record. She committed to learning and getting the most out of the training opportunity that she could. Even without any previous training or experience in machining, Erica quickly became a stand out in the classroom as well as in the shop. The other students would frequently collaborate with Erica outside of class for her help with sharpening their blueprint reading skills.
Her drive was rewarded with her being the first student to obtain employment in her class, which earned her an individual Recognition Award at the graduation ceremony. Erica went from unemployed and not exactly knowing how she would even get back and forth to attend the program to earning her position as a Mold Technician, earning $ 15.00/hr at Latham Pool Products in Jane Lew, WV. She enjoys the work but moreso, she exudes pride in herself for everything she has accomplished.
Learn more at https://wvwomenwork.org/.
Publish Date: 07/01/2022